Yes, we're going a sad and pathetic route. But others have done it and it generates traffic. Over at Gaslamp Ball they've made good use of Anna Kournikova's affiliation with the Padres this year. At John Sickels' Minor League Ball, they have a reader who was gracious enough to send in pictures of herself. While I could resort to posting pictures of our resident hottie, I'm fairly confident that it's in my best interests to refrain from doing so.
So, just for fun, we'll make our attempt at cheesecake photos with Matt Treanor's wife Misty May. Matt doesn't play all the time, so we'll only resort to this following games in which Matt plays. Matt played on Sunday, the Marlins most recent game, so here comes Misty.
All photos will be below the fold, so you won't have to look if you don't want to. Just click read more if you're interested.
Here's Misty and her teammate (Kerri Walsh) displaying their gold medals: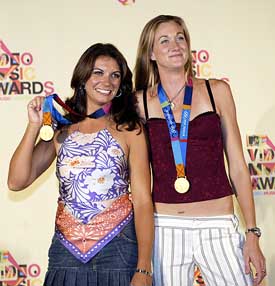 In case you're not familiar with women's volleyball, it can get pretty emotional. After a big win the ladies like to thank each other for their good effort:

Look - Misty hits the volleyball just like Matt hits the baseball (sorry):